Mr. Meadowcroft joins the company as a Global Client Service Manager serving the EMEA region.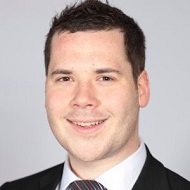 November 25, 2015 — Andrew Meadowcroft has joined AIReS as a Global Client Service Manager serving the EMEA Region. Mr. Meadowcroft will be responsible for managing client relationships, client program implementation, and ongoing assistance and training for the Operations service team.
Andrew has five years of comprehensive relocation and mobility experience, and his past employers include a global assignment management organization, a destination services provider, and a "Big Four" accounting firm.
Over the years, he has worked with multiple clients across many different industries, focusing on team management and consistently exceptional service.
"At our organization, the importance of company culture is paramount," said AIReS' Vice President of Operations, Joleen Lauffer. "Our ability to maintain the culture that has been thoughtfully created over time is integral to our ability to retain clients and employees alike. That cultural fit has been apparent in Andy from our first conversation. Andy's enthusiasm and outlook are clear evidence of the AIReS DNA that will make him a successful leader in the EMEA region."
Andrew has earned an upper second class BSc (Hons) degree from Loughborough University with a focus in Information Management and Business Studies. He has traveled extensively throughout Europe, South America, Australasia, and Asia, and he thoroughly enjoys experiencing different global cultures.
About Aires
Aires delivers best-in-class global and domestic relocation solutions and mobility program management. Having been recognized by The Forum for Expatriate Management, the Better Business Bureau, and the Stevie Awards for organic growth methodology, excellent client/vendor partnerships, and leading-edge proprietary technology, Aires focuses on people, process, and technology to deliver world-class service. The company has also achieved ISO 9001, ISO 14001, FIDI-FAIM, C-TPAT, and Privacy Shield certifications and registrations. Clients are assured a focus on quality and customer service excellence when partnering with Aires. For more information, please visit www.aires.com.
---
Return