The company passed its annual environmental audit with no negative findings and unconditional approval.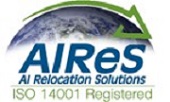 June 16, 2015 - AIReS is proud to announce its unconditional approval of its ISO 14001 Environmental registration.
The company has recently completed an audit with Maria Kingston. AIReS had zero audit findings and achieved unconditional approval for another year in the ISO 14001 Environmental program.
All of AIReS' daily environmental efforts to reduce paper and save resources were audited, including the company's resource-saving plans for the future.
Projects like AIReS' upcoming EMAC ASSIST for operational controls and electronic document storage, increasing use of Sentric that eliminates paper human resources files, usage of the proprietary Doc Man document management system that stored nearly 900,000 files in 2014, and commitment to resource reduction by AIReS management were all highlighted as successes in the audit report.
AIReS first achieved ISO 14001 registration in 2007 and has achieved unconditional approval every year since.
ISO 14001 is part of the overall AIReS Quality Program, which is overseen by the company's internal Quality Manager, Laura May Carmack.
About Aires
Aires delivers best-in-class global and domestic relocation solutions and mobility program management. Having been recognized by The Forum for Expatriate Management, the Better Business Bureau, and the Stevie Awards for organic growth methodology, excellent client/vendor partnerships, and leading-edge proprietary technology, Aires focuses on people, process, and technology to deliver world-class service. The company has also achieved ISO 9001, ISO 14001, FIDI-FAIM, C-TPAT, and Privacy Shield certifications and registrations. Clients are assured a focus on quality and customer service excellence when partnering with Aires. For more information, please visit www.aires.com.
---
Return