In follow-up to Aires' recently released two-part blog series with PetRelocation on traveling with pets (found here and here), we are reviewing new guidelines for bringing pets into the U.S. While pet relocation has always been a delicate logistics situation, new regulations are making it increasingly difficult to import animals to the U.S.
Beginning July 14, 2021, the Centers for Disease Control and Prevention (CDC) has imposed new temporary restrictions on dogs arriving from "high risk" countries (list found here) in an attempt to curb the spread of rabies from areas where there are higher known cases. These changes are scheduled to go into effect on July 14, 2021. Thankfully, relocation is one of the valid reasons for importation of dogs into the U.S., but it does come with a new process and stringent guidelines. We have discussed the changes and general guidelines for applying to import your dog below.
The following table is from the CDC's website and represents the changes to the importation process. (Please note, this is a general overview of the CDC's guidelines. For specific questions regarding your pet, we urge you to seek counsel from your Aires representative or trusted pet relocation partner.)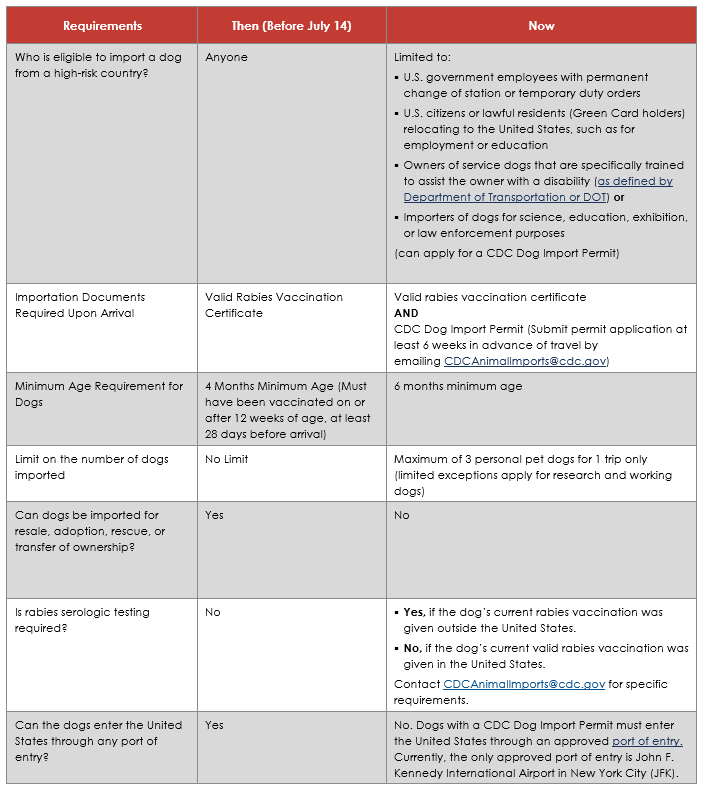 If you meet the eligibility criteria (e.g., you are relocating to the U.S.) the CDC's guidelines state that you must request advance written approval by emailing CDCanimalimports@cdc.gov at least 30 business days (6 weeks) before you intend to bring the dog into the U.S.
Per CDC's informational webpage on the permit, submitting an application does not guarantee a permit will be issued — CDC reserves the right to deny issuing a CDC Dog Import Permit. Submitting false information or making other false statements is punishable with fines and imprisonment.
If your request for advance approval is denied, CDC's written denial will constitute final agency action. No appeals will be allowed.
Permit Process
Each eligible importer of personal pet dogs may be granted approval to import a maximum of 3 dogs for one trip during the temporary suspension.

For dogs to be eligible for an import permit, they must:

be at least 6 months old, as verified by submission of current photos of the dog's teeth
be microchipped
have a valid rabies vaccination certificate
have a valid rabies serologic titer from an approved laboratory if the dog was vaccinated outside of the United States. Serologic titers must be drawn in accordance with World Organisation for Animal Health (OIE) recommendations. Currently, titers must be drawn a minimum of 30 days after vaccination and at least 3 months before US entry. A list of approved laboratories can be found here.
The application for importation can be found here. It must be filled out completely with all supporting documentation and emailed in one email to CDCanimalimports@cdc.gov. For further instructions on the completion of the application, please visit this website.
In Closing
While this process is difficult, it is necessary for relocating individuals from the designated high-risk countries who wish to import their dogs into the U.S. We know that your pets are part of the family so please reach out to your Aires representative with any questions or concerns on this process. For employers who are authorizing new relocations with potential pet relocation from these countries, we urge early authorization to allow time for the permit application.