For many of us, the thought of the pandemic cresting the six-month mark from when lockdown began is absolutely unreal. Most of us have adapted to an entirely new way of living. For some, that's really no sweat. For others with kids or other factors at home, it complicates routines significantly. This week on Mobility Mums, we broke down how two of our industry moms are battling through the pandemic with their families through meal prep, vacations, and school. This week we are featuring Ann Ingram, SPHR (Director, Human Resources of Hunt Oil Company) and Miranda Williams, SHRM-SCP, CCP, CBP, GRP (Director, Total Rewards of Galderma).
Meals: For many states and countries, gone are the days of heading out to a restaurant and treating our families to a meal. For many working professionals like Ann, eating out relieved a lot of the burden of finding time to cook and also enabled time to connect with family. While takeout is an option, Ann found that pre-made meals from grocery stores were a healthy and cost-friendly alternative.
Vacations: We spoke about the importance of taking a vacation in one of our previous posts; however, that may look different from family to family. For many of us, being home for months while following stringent protocols has some stir craziness. While some companies are offering paid-time-off rollover options and flexibility, others are insisting employees use their time or, unfortunately, lose the time.
Ann's family was fortunate enough to make a safe trip to Aspen in June, but as numbers began to climb again, the idea of a public vacation became increasingly concerning. With beach towns seeing increases in COVID-19 numbers, the fear of a beach is real. Ann and her family are considering booking a lake house vacation where they can swim, boat, and isolate. According to Business Times, a lot of people have this idea.
Many parents are abandoning carefully crated routines in favor of sheer survival mode. Ann admits this means that the Disney channel is doing a lot of "virtual babysitting" for her these days. (To be fair, I think many adults who sat at the edge of our seats watching The Mandalorian on Disney+ get it).
Schools: We talked about school closures being a major disruptor during the COVID-19 pandemic in our last Mobility Mum spotlight. What are parents to do about schools? In most locations, school is starting with new protocols in place for masks, handwashing, and social distancing, while others are starting the school year off with virtual learning much like they did in the spring. Some parents are faced with the difficult decision of whether to keep children at home or send them back to school. Both Ann and Miranda, like many other parents globally, agree that without school their children experience dysregulation just as many adults with disruptions to their routines do.
Miranda noted that many jobs require employees to leave the home (such as in-person appointment sales roles); however, during the pandemic, parents can't exactly drive from appointment to appointment while their kids sit at home. Schools closing severely impacted such positions. Potential options to assist with problems such as these include tutoring and care resources from places such as Bright Horizons, a caregiver resource finder at www.care.com, childcare help through www.hicleo.com/cleo-care, and www.cariloop.com with resources for help with caring for a loved one. There are many great options here for working professionals backed by research and vetted professionals.
Home implemented solutions for children include enlisting family for story times (what a cool job that would be!), a high-tech sanitation device for phones and laptops found at www.phonesoap.com, and a Visual Timer mobile application that allows children to see when she is in a meeting and when she can have them come in.
While we are all sharing this collective experience through the pandemic, every family is handling the situation a little differently. There is no "right" answer currently, and it takes strength and flexibility for moms to continue to help families succeed through their own individual situations. Each working mother has a set of challenges that they face and overcome every day … even if that means a little extra time with the Disney channel.
Miranda Williams and her family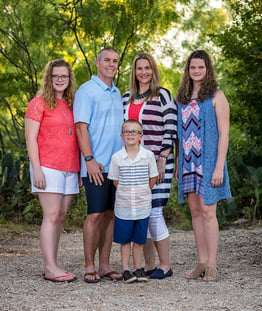 Ann Ingram and her children