Bobby Bartle, Aires' Director of Immigration Compliance, had the opportunity to accompany members of the Global Business Travel Association to Washington, DC, and meet with legislators about matters important to corporate business travelers.
The goal of the Global Business Travel Association is to garner bipartisan support in Congress for legislation that promotes safety and efficiency for corporate business travelers and the immense economic impact they have across the U.S. Among the topics discussed on the Hill with members of the House of Representatives and Senators:
Continued support in the House of Representatives for HR 4, the FAA Reauthorization Act. Specifically, this bill promotes:

A five-year extended authorization, which will allow the FAA to complete long-term planning aimed at upgrading the air traffic control system and NextGen programs
Opposition to voice calls on planes
No increase or elimination of a cap with regard to Passenger Facility Charges

Request that Senate take up the FAA Reauthorization Act, which was already passed in the House with overwhelming support, and submit a bill that incorporates those same important topics addressed in the House bill.
Support of the FASTER Act in both the House of Representatives and in the Senate. In 2001, Congress created the Transportation Security Administration (TSA) to help protect travelers following the September 11 terrorist attack. To help fund TSA, Congress imposed a 9/11 security fee on passengers for each flight taken. That fee is currently $5.60 per flight segment. In 2014 and 2017, budget deals in Congress have diverted 60 cents of that fee to go toward reducing the general deficit instead of going toward funding passenger safety. The request of Congress in passing the FASTER Act is that any fees collected from the 9/11 Security fee remain only for their sole intended purpose – to provide much needed funds to TSA in an effort to protect travelers in the sky and at airports.
Business travel has an immense impact on the U.S. economy and on corporations and their business travelers. In 2016, the most recent year for which statistics were calculated on business travel, companies invested $424 billion to send travelers out on the road for 514.4 million domestic business trips (about 400,000 per month). These massive figures prove that companies require lawmakers in Washington, DC, to help set policy that enables safety and efficiency for travelers accomplishing business objectives on the road.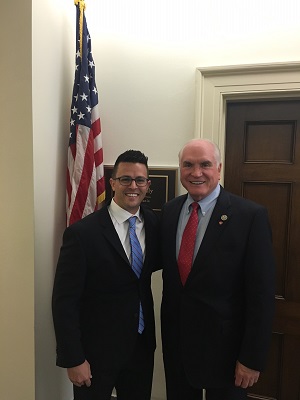 Bobby Bartle, Director, Immigration Compliance and Congressman Mike Kelly, representative of Pennsylvania's Third District
About Aires
Aires delivers best-in-class global and domestic relocation solutions and mobility program management. Having been recognized by The Forum for Expatriate Management, the Better Business Bureau, and the Stevie Awards for organic growth methodology, excellent client/vendor partnerships, and leading-edge proprietary technology, Aires focuses on people, process, and technology to deliver world-class service. The company has also achieved ISO 9001, ISO 14001, FIDI-FAIM, C-TPAT, and Privacy Shield certifications and registrations. Clients are assured a focus on quality and customer service excellence when partnering with Aires. For more information, please visit www.aires.com.